Listed as a UNESCO heritage site, Florence is the Cradle of Renaissance. Not only does it capitalise on its fascinating history when enticing visitors from around the world, but is also constantly investing in its future as a meetings destination.
This year will see the convention bureau celebrate its 20th anniversary and in the last five years, it has gone from strength to strength, registering a remarkable increase in the number of associate partners and winning pivotal events and international congresses. Thanks to its institutional relationships and the cooperation with the Firenze Fiera Congress and Exhibition Center, the convention bureau has been able to substantially increase its offer for delegates and congress organisers.
The unique Firenze Fiera manages the three Florentine congress and fair venues: Palazzo dei Congressi, Palazzo degli Affari and Fortezza da Basso located in the heart of the city's historical centre. The three venues can be seen as a "congress citadel" accommodating events for up to 10,000 participants. The Palazzo dei Congressi boasts a 1000-seats auditorium, whilst the Palazzo degli Affari, a modern, multi-purpose building can host any kind of event and a total of 1,800 people. The 16th-century, monumental Fortezza da Basso is the ideal location for large conferences as it covers 100,000 sqm. The three venues combined are a brilliant offering for meetings and events planners, in a truly stunning city…
The Florence appeal
One of our favourite things about Florence is the ease of getting around and although that might sounds strange, once you've done of the fantastic walking tours, you'll know what we mean! If you visit Florence, we highly recommend taking the time to do this and spend an hour or so wandering the cobbled streets, taking in the fantastic architecture of the cathedral with its beautiful terra-cotta-tiled dome and learning about the city's history.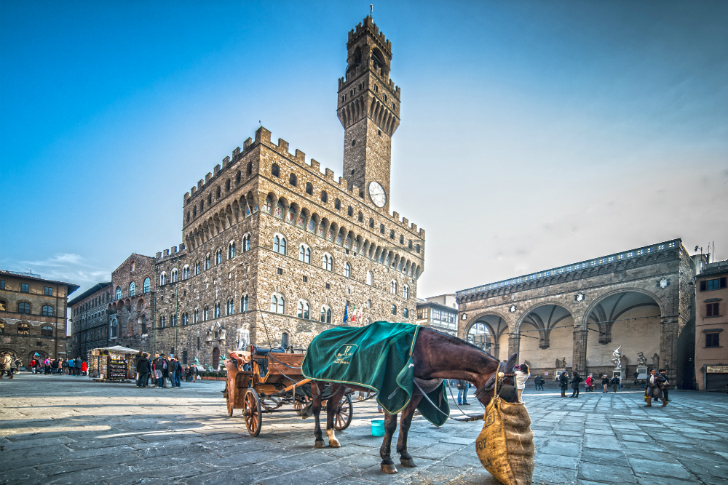 The architecture, art and culture of Florence is truly unique and as soon as you arrive you can understand the appeal. Italy in general is well-known for its cuisine and the Tuscan food you'll find in the hundreds of bars and restaurants is worth a visit in itself! The Florence Convention Bureau website has recommendations of what to do during your time there, including special offers at attractions and restaurants.
As well as the city appeal, a few kilometres from Florence, against the background of mountain peaks and passes, stretches the territory of the Mugello, where you'll find scenic countryside, historical villas, history, culture, traditional arts and crafts and so much more. This area of Tuscany offers a taste of traditional dishes and a variety of local produce that have maintained their authenticity to this day.
So, what can it offer your events?
Florence is a smart city with its "green" transport network including electric buses, trams and cycle tracks, making the city really easy to get around. In 2017, the Italian city will boast a new renovated airport, with direct flights to and from international destinations. This expansion will see Florence become the third largest airport hub in Italy, thanks to the recent merging with the airport of Pisa. This is helped by Florence' location in the heart of Italy and therefore at the centre of a fast train network, which means you can be in Rome or Milan in just an hour and a half.
In addition to this, the Florence Congress Booking System is a highly innovative hotel reservation portal, which provides a valuable solution for associations and PCOs. In the last few years an increasing number of congress delegates have booked their accommodation through OLTA, resulting in significantly lower earnings for organisers. In Florence, the system's reserved area of each congress now offers delegates discounted rates of at least 5% compared to the Best Available Rate from other websites. Moreover, PCOs and associations can benefit from a commission but without being charged with cancellation fees. To find out more, visit www.florencecongressbooking.com
If you're attending ibtm world as a Hosted Buyer, you can enjoy a post-event tour to this magical city and surroundings, so why not discover the appeal for yourself? Find out more here.