Stay up to date with all the best sessions and latest insights from our live knowledge streams, IBTM TV and Exceptional Experiences, as well as all the latest thoughts from our attendees!
---
06:50 GMT
Welcome to Day 3 of IBTM World Virtual! We're up bright and early this morning in the UK for the launch of our IBTM TV content stream! Join us in 10 minutes on our virtual platform to hear IBTM World Virtual Event Director, David Thompson, kick things off!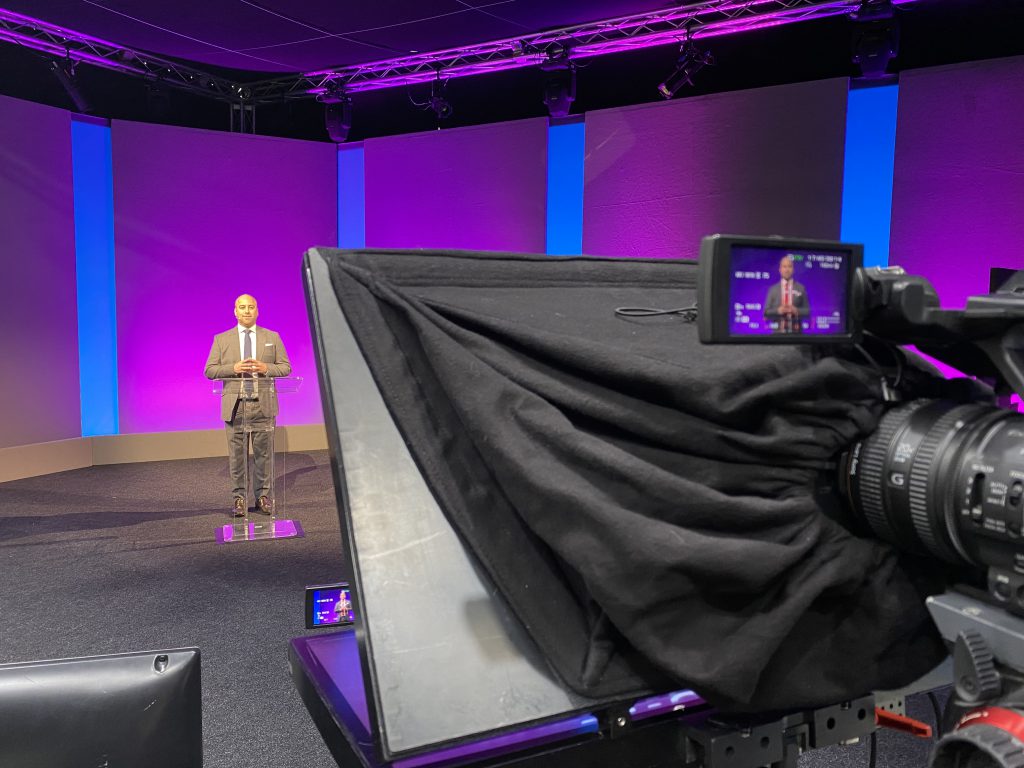 ---
07:00 GMT
And here we go… IBTM TV is now live! What sessions are you looking forward to seeing today? We're really looking forward to all our keynotes but it's hard to choose – there's so many great topics being discussed.
If you need some help deciding which you'd like to attend, here's an agenda for you to help plan your day! Let us know in the comments which ones you'll be at.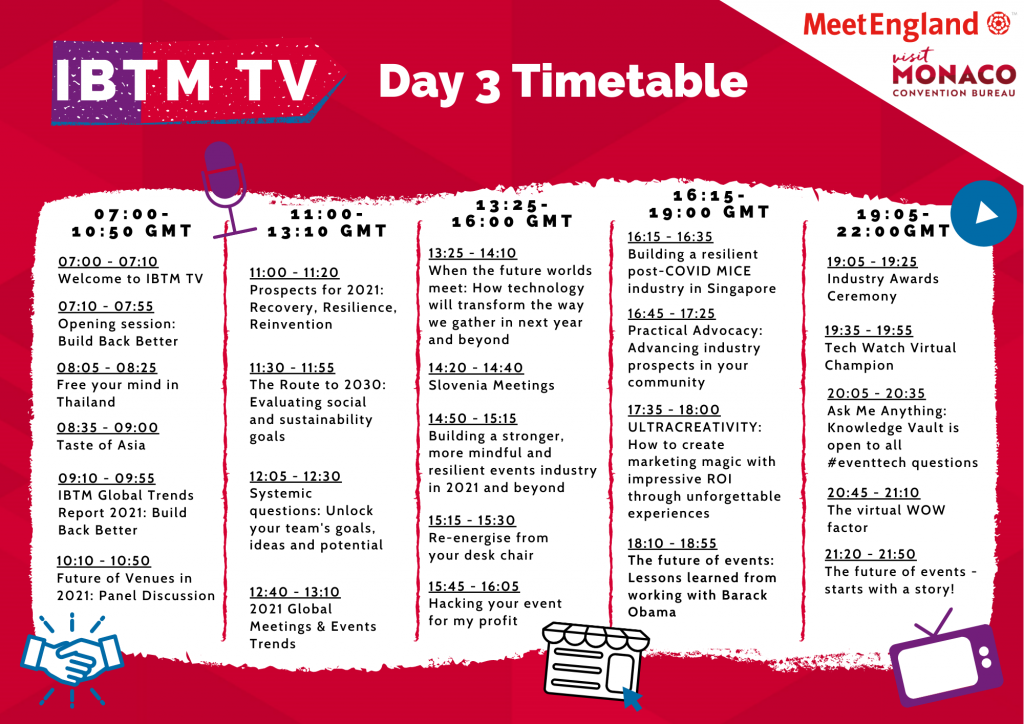 ---
09:00 GMT
We've had some great sessions so far this morning! Karen Bollinger, APAC Regional Director, PCMA delivered a great opening session on "How APAC is building back better in 2021!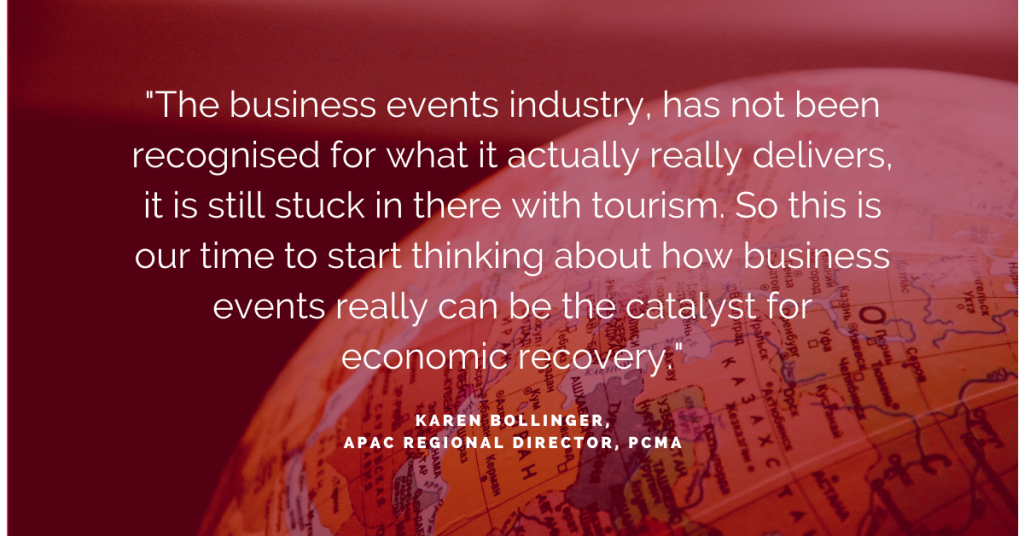 And now, we're ready for Alistair Turner's "IBTM Global Trends Report 2021: Build Back Better". Stay tuned for updates!
---
10:30 GMT
Wasn't Alistair Turner's session insightful? What were the trends that you found most interesting?
Let us know by commenting below!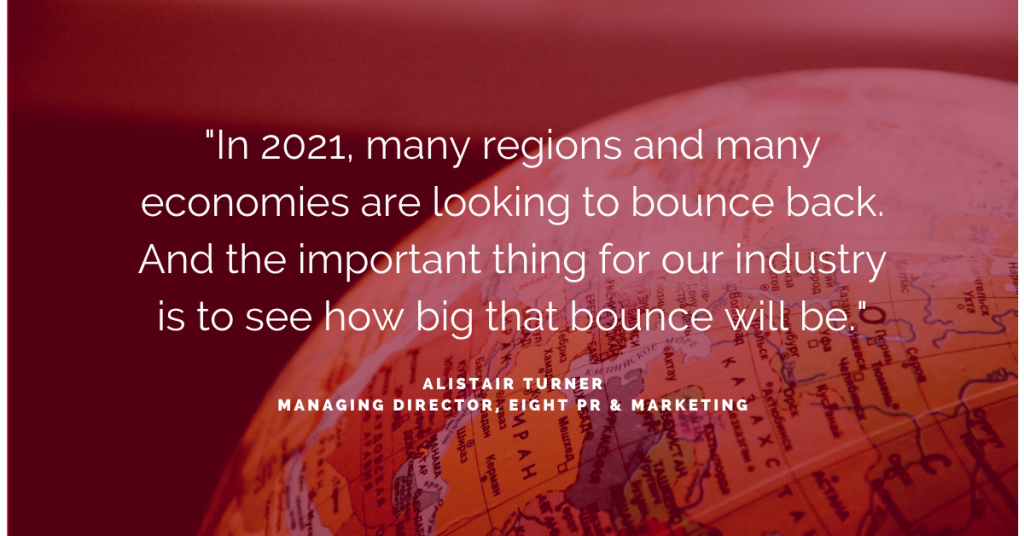 ---
11:00 GMT
The stats are now in! All the fantastic eventprofs who have attended IBTM World on Day 1 and 2 have carried out over 9,000 meetings!
That's 9,000 video chats with leading suppliers and buyers within the industry, 9,000 opportunities for leads and new business, and 9,000 times we've shown that, as an industry, we're getting back to business!
What will the total be by the end of today?
---
11:15 GMT
Philippe Legrain is currently delivering a fantastic keynote session on IBTM TV on "Prospects for 2021: Recovery, Resilience, Reinvention" and his approach has definitely given us food for thought and hope for next year and beyond.
What insights have you found interesting?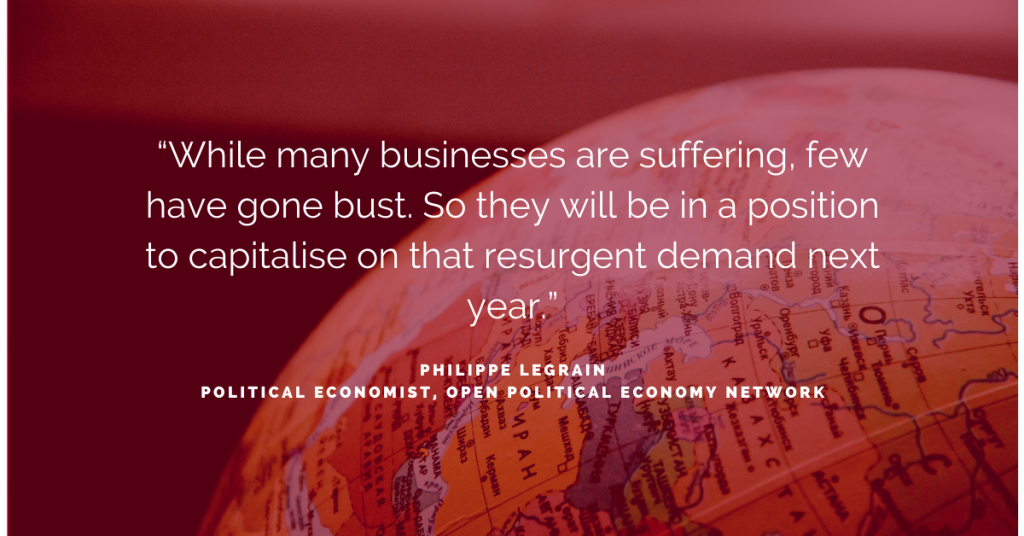 ---
12:20 GMT
What do you think your grandmother would think about your idea?
Steff Berger, Managing Director of VOBE_Inspires People asked this exact question in her session on IBTM TV to encourage people to consider circular questions, instead of direct questions. So, instead of asking what your idea will do, ask what your client will benefit from with your idea or what they need from your idea.
What do you think your grandmother's reaction would be to your latest idea? Let us know in the comments!
---
14:00 GMT
What do you think of our second keynote of the day, Cecilia Tham?
She's shared some fantastic insights into the future of meetings, both virtual and in-person, and the technology that will support it.
What future will you be making in 2021?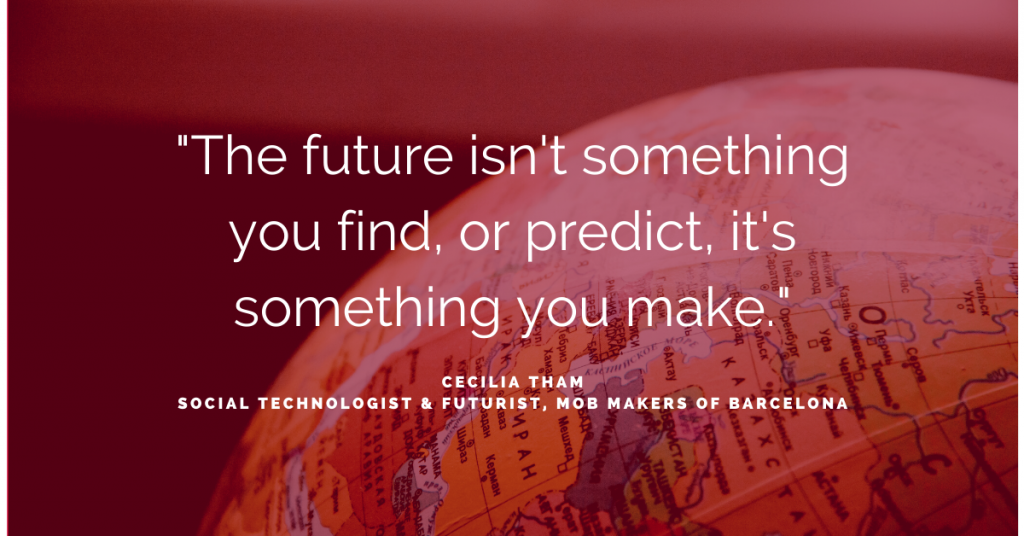 14:50 GMT
"Experiences are the currency we're all working in." – Calum di Lieto
Great fireside chat between Calum di Lieto from ILEA UK, Justin Reid from TripAdvisor and Christian Seidenstuecker from Joke Event AG!
Our Exceptional Experiences content stream is full to the brim with inspiring sessions this afternoon – there's still time to tune into a couple before the end of the day!
Which one will you choose?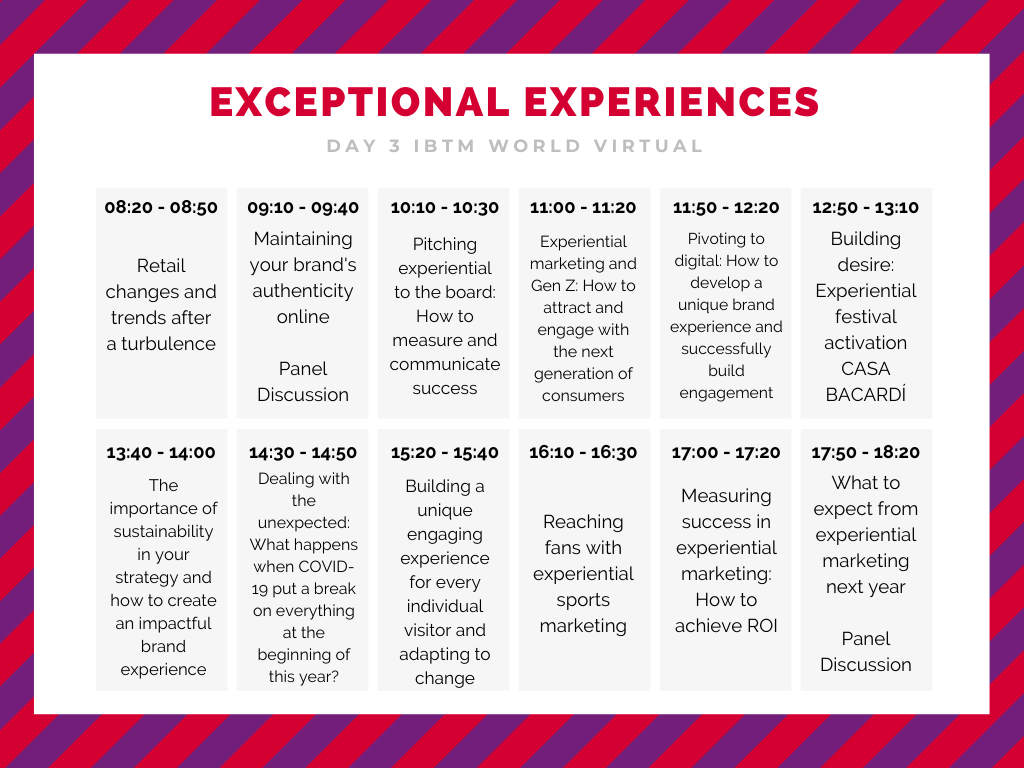 ---
15:20 GMT
Earlier today, Alistair Turner took to the IBTM TV stage to deliver his insights from the IBTM World Trends Watch Report 2021!
If you'd like to read the full report, you can access it now on our website: https://bit.ly/376rQEK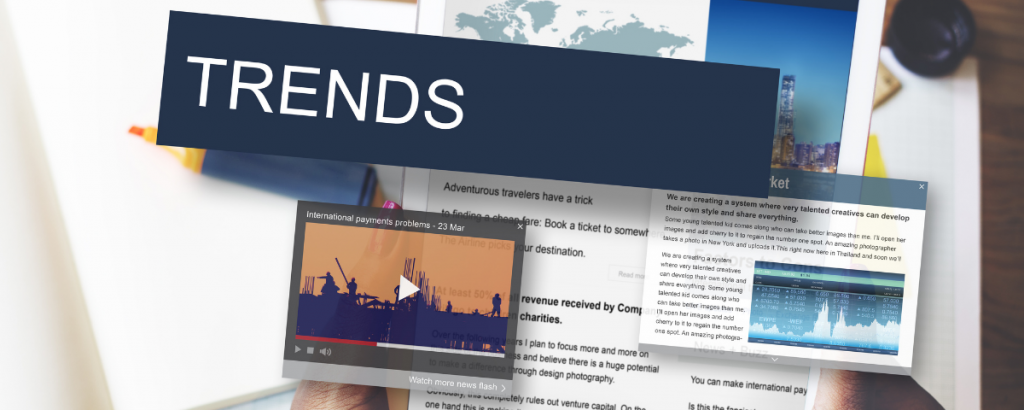 ---
15:53 GMT
How good are your passwords? Tony Gee joins us on IBTM TV to hack your events for his profit – how will you stop him? Find out by watching the session on-demand if you missed it!
He even hacks all the wifi controlled kettles in London – you don't want to miss that!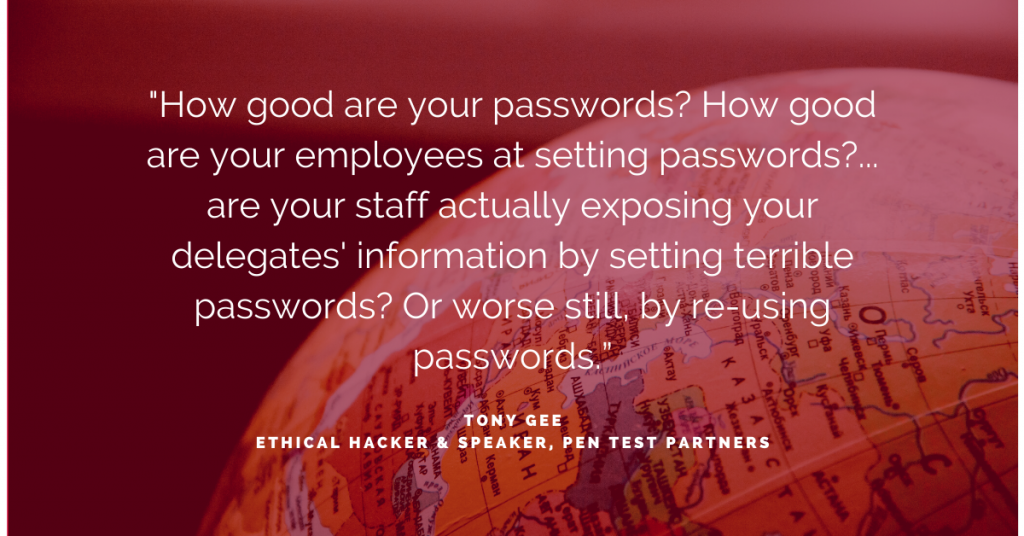 ---
17:30 GMT
It's 5:30pm and now's the time when we'd all be commuting home so, make sure to take some time to take a break and stretch – it's been a long day in front of the computer!
Take some advice from our session with Sonja Piontek – "Ban the word cannot and replace it with how!" How can you make time to take a break? How can you step away from your computer?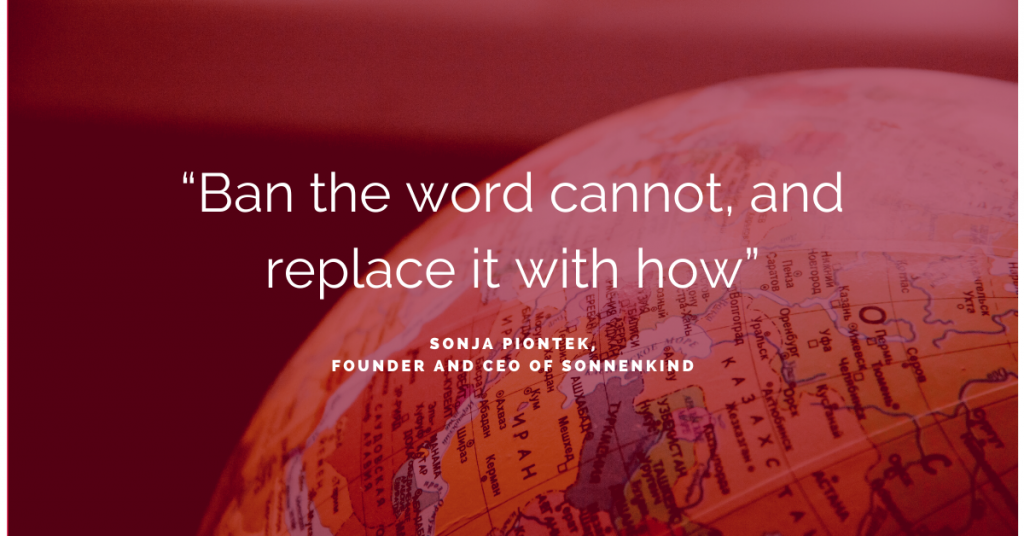 ---
18:40 GMT
What did everyone think of the fantastic keynote from Pancho Campo? We loved hearing more about what he's learned from working with fantastic, iconic speakers like Al Gore, Barack Obama and more.
This quote especially stood out for us. What did you think?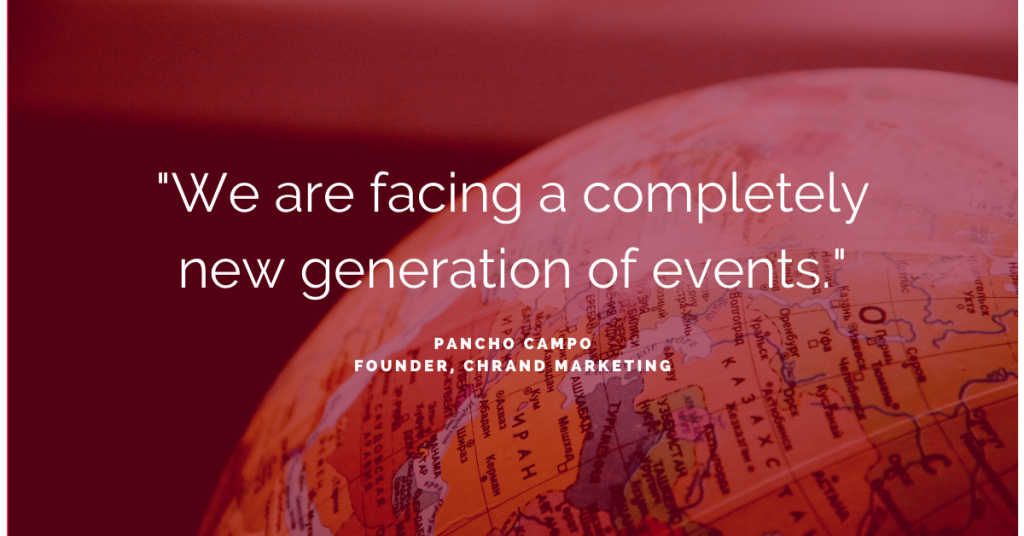 ---
19:35 GMT
Congratulations to Clipr, the winner of our TechWatch Live 2020 competition!
Our judges thought their innovation was an excellent way to combat Zoom fatigue and much more. TAG Member, Michelle Bruno says, "I'm excited about our TechWatch Live winner @cliprai – I truly think that with content, we need a better way of analysing what's working and what's not. This is going to lend itself well for analysing consumer behaviours."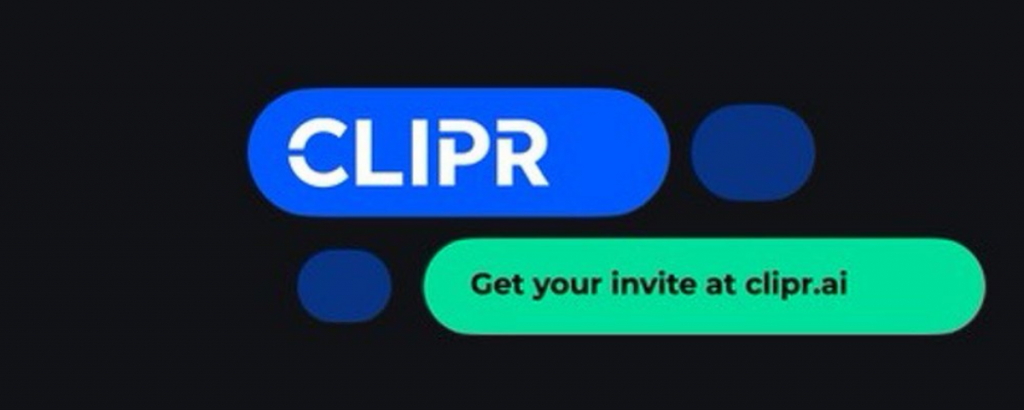 ---
20:26 GMT
Michelle Bruno has kicked off our "Ask Me Anything: Knowledge Vault is Open to all #eventtech questions" panel with a fantastic quote: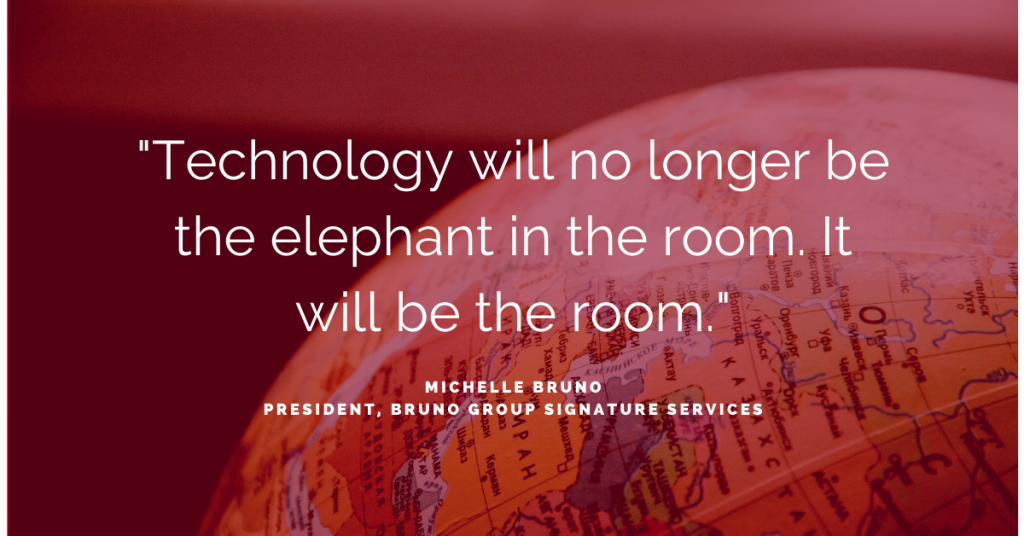 It's fantastic to hear from our experts about what tech they're looking forward to and what they think about the development of new tech in both the next year, and the next decade!
If you're checking this after 10 December, don't worry – you can watch this session on-demand for 2 weeks after IBTM World Virtual.
---
21:26 GMT
"Are you starting to see the light at the end of the tunnel? For some, it means returning to a world you recognise, maybe things will be the way they used to be; others may already understand that by the time we are all out of the tunnel the world we enter may be somewhat different."
So many great insights from Mike Wittenstein in the closing keynote for IBTM World Virtual! What light are you heading towards in 2021 and what do you hope to see when you come out of the other side of the tunnel?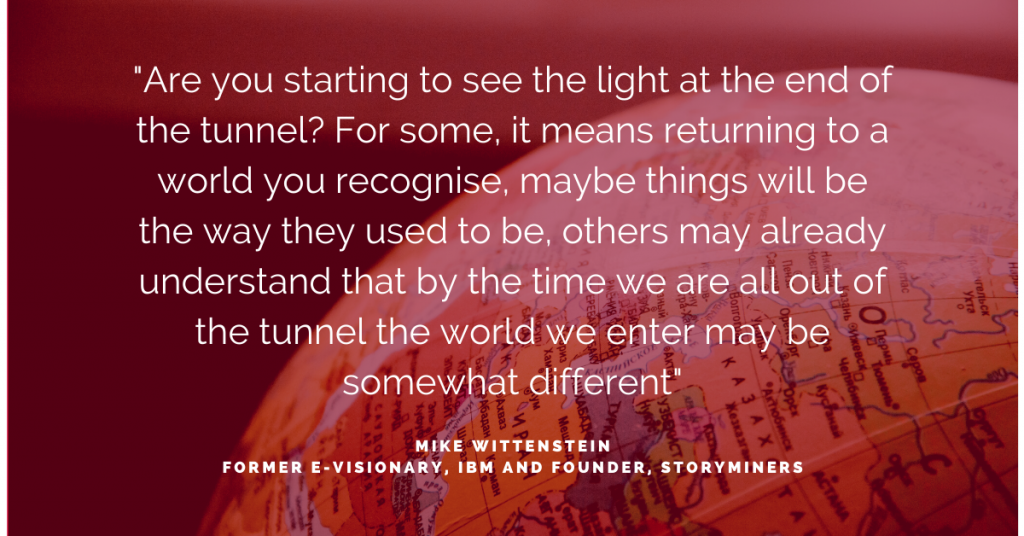 ---
22:00 GMT
Thank you to everyone who joined us over the last three days for a fantastic IBTM World Virtual!
It's been great seeing you all online and can't wait to hopefully see you in person next year in Barcelona!
Until then, goodbye, happy holidays and a big round of applause from us.